Kuadasi Golf And Spa Resort Luxury Apartments
Club La Costa's latest resort in Turkey, Kusadasi Golf & Spa Resort, lies near to the popular resort location of Kusadasi, around 90km south of Izmir, Turkey's 3rd biggest city. The Golf course is developed by Spanish golf designer Jose Canales, the Kusadasi course, which has actually been under building since 2009, measures 6,400 metres and is around 140-270 meters above the sea level with views to the surrounding Aegean Sea, Long Beach, Samos Island, National Park mountains and bays.
This unique resort offers a 18-hole championship golf course, a full-service 3174 m2 Club House, VIP lounge, restaurant, banquet and meeting room facilites, event organisations and lodging accommodation all in one location.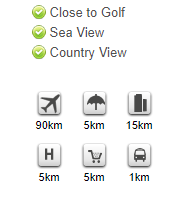 Kusadasi is the very first golf course in Turkey to be part of a blended development consisting of apartment or condos and vacation homes. The developments in the Belek area of Turkey, home to majority of Turkey's golf courses, are completely constructed on land rented from the Turkish government, and therefore were unable to include freehold properties.
The residential facilites for the resort are centred around "The Atrium" which hosts a 24 hour reception center, The Aegean Bar, shopping area, buffet restaurant and spa treatment centre including Turkish Bath. Around the resort there are 5 Restaurants serving whatever from snacks to Ala Carte, the resort management also offer an all-inclusive option for home-owners and visitors staying at the resort throughout the summer season, this can be an excellent incentive for renters who want to enjoy the facilities which the resort provides.
There are just a few units left starting from ₤ 68,000 so you will need to be fast to make the most of this unique investment which offers a extremely high rental potential.
The centre of Kusadasi is alight with life, there are a selection of dining establishments, bars, nightlife and shopping opportunities just awaiting you.
A number of beaches and beach clubs are waiting for you to visit and during the summer months and spend the evenings at one of the many bars and restaurants along the coastline. The Setur Yacht Marina is a wonderful place to visit with its upmarket restaurants and cafe-bars as well as a new designer shopping centre. The old town of Kusadasi still holds the beauty, set within the old castle walls the bazzar is the ideal location to bargain for your shopping, generally over a glass of the regional apple tea.
Kusadasi Golf & Spa Resort Facilities
Kusadasi Golf & Spa Resort Images