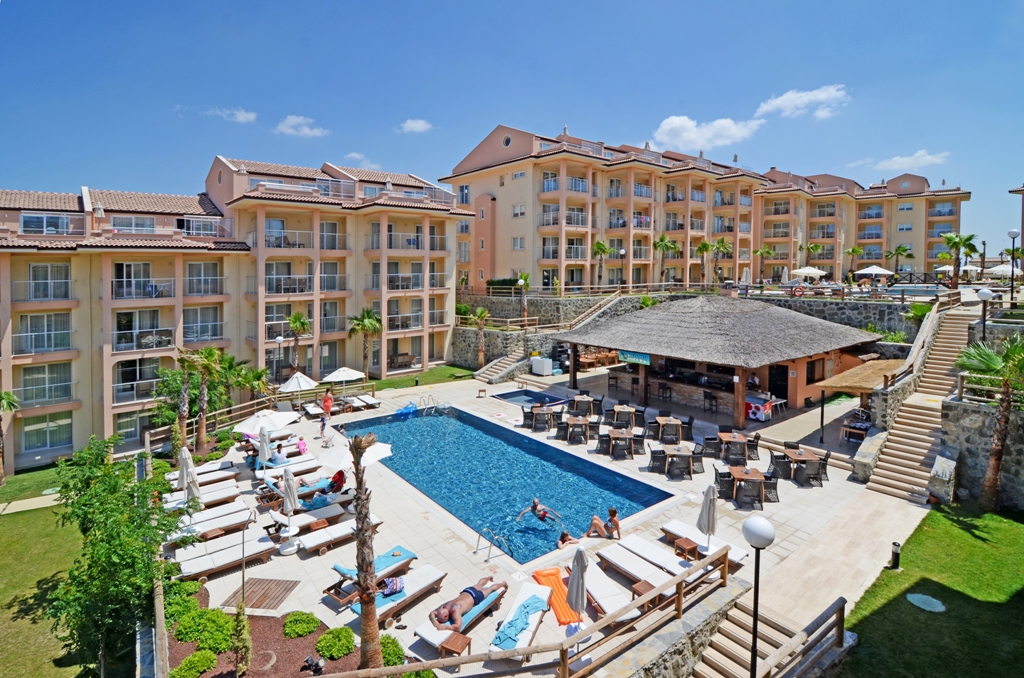 If you are looking to buy a great holiday home in Turkey on a completed complex, look no further than this very popular Golf Holiday complex in Kusadasi.
Properties at Kusadasi Golf and Spa Resort are available to buy with a flexible 2-year payment plan, this is a promotional offer and is available for a very limited period.
Kusadasi International Golf and Spa Resort is the only residential golf project in Turkey, this completed and operational 5-Star Holiday Complex in Kusadasi has many facilities making it a perfect holiday home for families, golfers, and property investors.
With such a wide range of properties and affordable prices, there is something to suit everyone and with all the facilities on-site, plus an18 hole golf course and private beach club the rental potential is very high!
We have apartments with sea & mountain and pool views, ground floor garden apartments with direct access to swimming pools, and very affordable properties adjacent to the social facilities.  
Starting prices of properties currently available:
1 Bedroom Apartments from £31,850 / 276,500 tl
2 Bedrooms Apartments with 1 Bath from £39,500 / 343,000 tl
2 Bedroom Apartments with 2 Baths from £44,750 /388,000 tl
2 Bedroom Duplex Link Villas with 2 Baths from £56,800 /492,700 tl
3 Bedroom Duplexes from with 3 Baths from £66,200 / 573,500 tl
To view a selection of properties for sale at this project in Kusadasi 
Click Here
We also have a selection of fully furnished resale properties for sale that are immediately ready to use. Details on request.   
NB* Prices vary due to the views and location on the project and are also subject to currency fluctuations. 
For the latest availability and prices, contact us today!
The Promotion:
Buy today from as little as £19,000 and immediately receive your Title Deed and pay the remaining balance over 24 months with our exclusive interest-free payment plan.
There is something for everyone at Kusadasi Golf & Spa Resort and when you buy a property at this amazing resort in Kusadasi you will always be kept busy and entertained. 
Facilities and more information:
Concierge and Reception services
Restaurants & Bars
Club House with a la carte dining
11 pools
18-hole golf course
Expansive dining areas
Free shuttle bus to Private Beach Club
Animation team
Kids' Club (4-12 years)
Fully-equipped gym
Fabulous spa
Turkish bath
Massages & bath treatments
Beauty salon
Mini golf
Free WiFi in public areas
Sports and leisure
Aerobics
Basketball
Children's Entertainment
Children's Pool
Darts
Daily & Evening Entertainment Programmes
Massage rooms
Minigolf
Outdoor Pool(s)
Indoor Pool 
Parasols
Pool bar
Sauna
Steam bath
Sun loungers
Sun terraces
Table Tennis
Tanning Studio/Solarium
Tennis courts
Water sport facilities (on-site)
The Project
Kusadasi Golf & Spa Resort is located close to the popular resort area of Kusadasi, around 90km south of Izmir, Turkey's third-largest city. The Golf course is designed by Spanish golf architect Jose Canales, the Kusadasi course, the Golf Resort measures around 640,000 sqm meters, and is 140-270 meters above sea level with views to the surrounding Aegean Sea, Long Beach, Samos Island, National Park bays and mountains. This unique resort offers an 18-hole championship golf course, a full-service 3174 m2 Club House, VIP lounge, restaurant, banquet and meeting room facilities, event organizations, and lodging accommodation all in one location.
The residential facilities for the resort are centered around "The Atrium" which hosts a 24-hour reception facility, The Aegean Bar, shopping area, buffet restaurant, and spa treatment center including Turkish Bath. Around the resort there are 5 restaurants serving everything from snacks to A la Carte, the resort management also offers an all-inclusive option for guests and home-owners staying on the resort during the summer season, this can be an excellent incentive for renters who wish to enjoy the facilities which the resort has to offer.
Kusadasi is the first course in Turkey to be part of a mixed development including villas and apartments. The developments in the Belek region, home to most of Turkey's courses, are entirely built on land leased from the Turkish government, and thus were not able to include freehold property.
Villa and Plots:
Plots are available where you can choose from Sea Views, Golf Course Views, and amazing Mountain Scenery, pick the type of the villa you want and create your own piece of paradise, many build options are available or you can simply design and build your own! Plots start from around £40,000 for 1000 sqm.
The Location
Situated in the hills overlooking the Long Beach district, with its 18km of sandy beaches, the Kusadasi Golf & Spa Resort is just a 15-minute journey from the center of Kusadasi, the center of Kusadasi is alight with life, there are an array of restaurants, bars, nightlife and shopping opportunities awaiting you. A number of beaches and beach clubs are the places to see and be seen during the summer months and the evenings are spent at one of the many eateries or bar venues along the coastline. The 800 berth Setur Yacht Marina is just a short distance from this property and offers a selection of upmarket restaurants and cafe bars with a new designer shopping center. The old town of Kusadasi still holds the charm, set within the old castle walls the bazaar is the perfect place to haggle for your shopping, normally over a glass of the local apple tea, with its array of restaurants, bars, and shopping opportunities.
Our property portfolio in Kusadasi ranges from exclusive apartments, villas on private plots to detached and semidetached villas secure complex's in all the main areas such as Sogucak, Long Beach, Ladies Beach, Marina, Davutlar, Guzelcamli, and Kusadasi center.     
Buying a home in Turkey and Kusadasi can also allow you to take advantage of the current Turkish Citizenship Program by Investment that allows a person or family to get Turkish Citizenship if they invest $250,000 on property investment in Turkey.   
Call us today for more information on buying a property in Kusadasi, arrange a property viewing, or call for a free consultation.